Hello Brother Knights, Friends, and Families:
LAST CHANCE TO GET TICKETS!!!
COME TO THE MEETING TONIGHT AT THE MULLICA HILL PARISH CENTER!!!
Our 10th Annual Knights of Columbus Phillies Night and Tailgate Party is TOMORROW!!!
We have about 20 tickets left. The price is $40 per person and that includes:
- Lower level outfield seats on Ashburn Alley (no steps or escalators or elevators needed)
- Hot Dogs
- Hamburgers
- Beverages (Beer, Water, Lemonade, Soft Drinks)
- Family fun
- DJ (Grand Knight Doug Kalbach spinning the tunes)
- 50/50
- Games and more!
Tailgate will start at 4PM at the Jetro Cash and Carry Parking Lot across from the Linc (Same location as last year).
We will be under the overhang in case of inclement weather.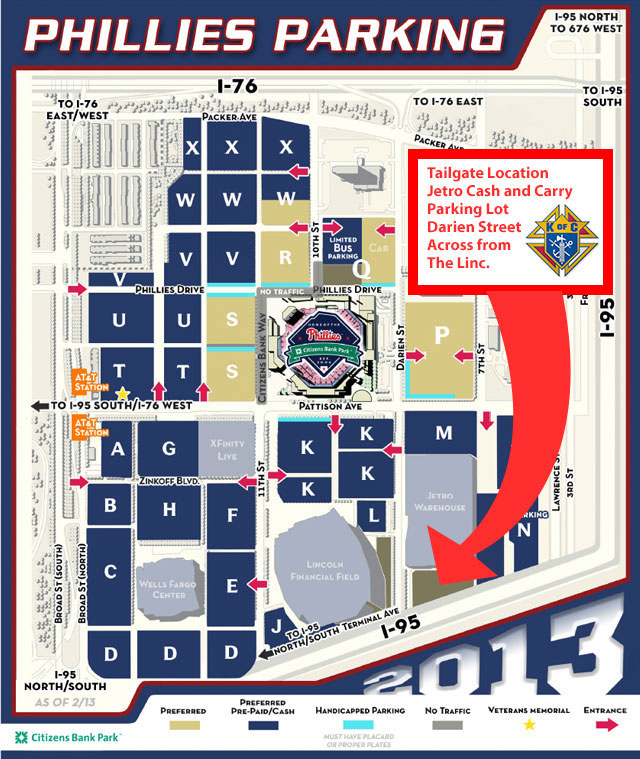 The game starts at 7:05. It is Wall of Fame night and the Phillies will be enshrining Curt Schilling on the Wall. Many of past Phillies greats will be in attendance for the ceremony as will as a reunion of the 1993 National League Championship team. (I'll be wearing the hat I wore during the 1993 World Series campaign).
The Fightins' will be playing the first place Atlanta Braves.
We will be tailgating after the game as the parking lots clear out.
PLEASE READ!!!
BRING CHAIRS WITH YOU!!!

The Knights are providing Hot Dogs, Hamburgers, Beer, water bottles, and some soft drinks. John McGonigle's Brother in Law, John Brennan, has generously agreed to supply the grill again this year. Please show him your gratitude and help him out by taking turns cooking.

EVERYBODY BRING SOMETHING TO SHARE!!! Some suggestions: Salad, napkins, pretzels, wings, desserts, ribs, sausage, chicken, cole slaw, candy, soda, juice boxes, trash bags, extra beer, wine, ICE!!!, anything to keep you happy. BRING EXTRA BEER!! We are getting TWO Quarter kegs (they may not last).

GAMES AND ACTIVITIES: Anybody has stuff like Redneck Horseshoes, football, stuff to keep the little ones occupied, it is appreciated. We will be running a 50/50 drawing to offset the cost of the tailgate and to raise funds for the Knights Charities. Be generous for a BIG JACKPOT!

HELP SETTING UP AND CLEANING UP: Always the most important! It's not an easy task providing a good time for 150 people and we need help doing it, so everybody lend a hand!! We need tents, tables, ICE!!!, and people to transport it there at 3:30 and take it home at the end of the night.

Please contact me by replying to this email or calling me at 856-430-2028, John McGonigle at 610-331-5505 or Don Lynch at 856-534-0183. ALSO KEEP OUR NUMBERS HANDY IF YOU GET LOST OR IF PLANS CHANGE FOR SOME REASON BEYOND OUR CONTROL!!

Thank you Worthy Past Grand Knight Don Lynch for gracefully handling the thankless task of ticket sales again this year!

And remember, this is a great family time and please be respectful to everyone in our group, young and old. Let's make this the best Tailgate Party (even though my beloved Phillies are stinking it up AGAIN this year!!!)

PLEASE FORWARD THIS EMAIL TO ALL OF YOUR GUESTS ATTENDING THE GAME!!!!!!!!!!
Thanks!
Paul Driscoll
PGK
If you are interested in becoming a member of our council
please contact us at 856-223-1721 or by email at pauldriscoll@mac.com